Tulchin Research Vice President Ben Krompak Recognized with "40 Under 40" Award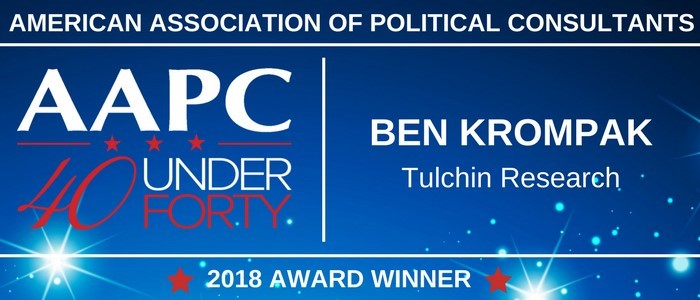 Tulchin Research Vice President Ben Krompak has been honored by the American Association of Political Consultants (AAPC) as one of the 40 best and brightest consulting professionals under 40 years old. Krompak is one of 18 Democrats who will be recognized alongside 18 Republicans and 4 nonpartisan operatives at the 2018 Annual Pollie Awards & AAPC Conference on April 11, 2018 in Nashville, Tennessee.
"AAPC is honored to recognize these standout young achievers such as Ben Krompak who have already proven their immense talent in the political and public affairs industries," said AAPC President Tom Shepard. "We cannot wait to welcome these winners to Nashville in order to celebrate their great achievements and feature them as this year's stellar 2018 40 Under 40 class." AAPC Vice President Rose Kapolczynski also noted: "The competition for this year's winners was intense as we received over 190 nominations. Our bipartisan team of judges reviewed the materials of these highly qualified individuals from across the political spectrum to determine this year's remarkable class. We are proud of each and every one of these astonishing young professionals."
"It is an honor to receive this award from AAPC and to be included among such a talented class of peers," said Ben Krompak. "Our country needs change – and those with the vision and courage to lead that change need better data and better strategy. I am proud to be a part of an industry-leading polling team committed to accuracy, innovation, and big picture thinking."
Ben joined Tulchin Research in 2010. He specializes in strategic research, message development, and public policy and was part of the polling and strategy team for Bernie Sanders' 2016 presidential campaign.
Tulchin Research congratulates Ben and the rest of this year's winners. Click here to view the full list.
And check out Tulchin Research's new website to learn more about our industry-leading team and how we're helping changemakers with better data and better strategy.